In times of great peril, comes great opportunity.
It's an historic time.
Whether you realize it or not, having a career in the arts gives you the power to make a positive mark on the world. Don't look now, but there is a new wave of Hollywood activism.
Actors, performers, musicians, writers, artists and directors are now very much compelled to use their powers of influence to participate in projects that inspire action… or activism… and progressive conversations across the country.
Take your place in history.
Forget all the doom and gloom. Things seem to be changing faster than ever before, but we must not confuse CHANGE with FEAR. Old structures may be failing, but in their place new and better ones are being constructed. Artists are being empowered in unique and exciting ways to participate in never-before-told stories of perseverance, human potential and historic significance.
Don't deny yourself the opportunity to be a part of something epic.
YOU ARE A CULTURAL ARBITER. When you decided to be an artist, without realizing it, you signed up to be a FORWARD THINKER. Your creativity and openness has made you a thought leader. It has given you several platforms to exercise mindfulness, compassion and openness to all angles of the human experience.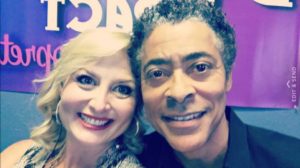 On Today's Show
I'll be welcoming two-time Ovation winner, actor/director Dominic Hoffman to the studio to talk about his latest project Emmitt & Ava, which I had the distinct pleasure to attend this past weekend.
If you live in Los Angeles, you know that good theatre is not always easy to come by… but when you find it… it can be truly transformative. Good theatre is thought-provoking, introspective, intimate and relevant. Emmitt and Ava are all of those things and more.
Taking place after a tragic event in Venice Beach where 2 families have been brought together in the midst of grief, we are privy to an uncomfortable conversation that is both necessary and timely. Dominic Hoffman, as both the playwright and director, has found a stunning and compelling way to break down the cultural barriers that have divided us and inspired an honest way for us to achieve understanding and compassion. Performances across the board are stellar to boot.
Today's Guest
Welcome Dominic!
Dominic Hoffman is a graduate of UC Santa Cruz, where he received his BA in English Literature. He received his formal training at American Conservatory Theatre (ACT), The London Academy of Music and Dramatic Arts, and NYU Film School. He has won NAACP awards as writer/actor for his play Last Fare (Best New Play, Best Actor), and Best Play at the Edinburgh International Festival, Best Of The Fringe at the San Francisco Fringe Festival, and LA Ovation Awards (Best Writer Of A World Premiere Play & Best Lead Actor In A Play), as writer/actor for Uncle Jacques' Symphony. Television appearances have included roles on Grey's Anatomy, 24, Lie To Me, and recurring roles on The Mentalist, The Unit, and The Shield. He can also be seen in HBO's Spector (starring Al Pacino as Phil Spector and Helen Mirren) as Spector's defense attorney. Other appearances include CSI, Rizzoli & Isles, Castle, The Unit, The Shield, and NYPD Blue.
Mr. Hoffman's theater experience includes roles as Lupus Albus Secundus in David Mamet's Keep Your Pantheon at the Kirk Douglas Theatre, Michael in Lee Blessing's play Two Rooms, and the role of the Magus in the world premiere of Dr. Faustus, written and directed by David Mamet at San Francisco's Magic Theatre. He most recently starred in David Mamet's RACE at the Kirk Douglas Theater in Los Angeles, CA. Dominic has appeared on hundreds of films and television episodes as a voice over artist.
His directorial credits include an all African-American production of Macbeth, A Soldier's Play, and Dave Roberson in the award-winning solo show, Ali: The Life and Times of Muhammad Ali at the Hudson Backstage.
He is the playwright and stage director for Emmitt and Eva which recently had it's opening night at the Edgemar Center for the Arts in Santa Monica. Learn more—>